Hello my friends and happy Friday!!!
On Monday's post I highlighted a great offer for you to purchase an ebundle of 23 great ebooks.  I just finished reading "Project Organize Your Entire Life", one of the books in the bundle.  It's also known as "POYEL", by Stephanie Morgan.  (I liked her name.) 🙂  
Not only did I really enjoy her book, I also fell head over heels in love with her adorable blog – Modern Parents, Messy Kids.  So much in love that you can officially call me the newest fan of POYEL!  As a new fan I wanted to share my book review with you about Stephanie's fabulous book.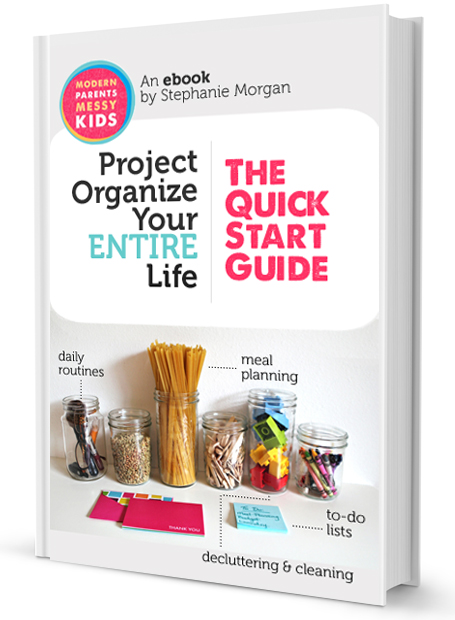 Morgan's Review
POYEL is a great resource to quick start some better habits when it comes to living more simply.  This guide provides ideas for how to establish routines when it comes to cleaning, organizing, meal planning and to-do lists.  
Here are some of my personal take aways from POYEL.
Three basic tenets – simplify life and enjoy your family more, be flexible, and give yourself a break when things aren't perfect.  (Couldn't agree more with all three of these.)
"Go Big or Go Home" –  the philosophy on how to tackle decluttering within a weekend.
The Modern Family Cleaning Quiz – helps to determine your individual cleaning personality.  (I'm Claire.)
Quote – "You don't clean what you don't have."
Importance of making a plan to make a plan, when it comes to menu planning.  (Say that three times fast.)
Fantastic option for making a DIY-Dry-Erase-To-Do-List.
The colors and pictures in the book had me at hello!
Are you intrigued?
I love that Stephanie says you don't have to be a domestic goddess to take control of your life. She's right! A few simple changes and you truly can simplify your life.  Her book will help you learn how to take the next steps.
Also, if you note at the bottom of this post there are other reviews of different books, feel free to hop around to get more insight into what the other books have to offer.
And for fun do think you are a Phil, Claire or Cam when it comes to your cleaning style (Modern Family style)?
Hoping you have a FABULOUS weekend!
"Go Big or Go Home!"