Today Daria from Your Organized Life, is stopping by to share some great tips for creating an organized laundry room. She is also including a free printable and an easy DIY laundry recipe. Laundry may just become your new favorite chore!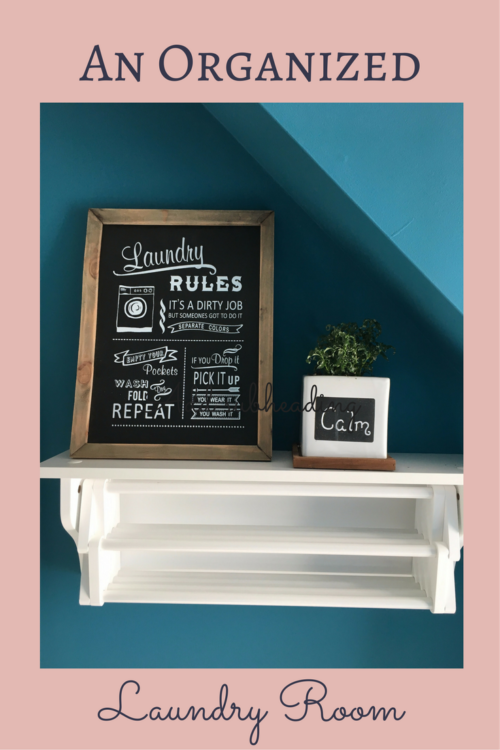 What is it they say about death and taxes? Well, I think we need to add laundry to that list. Cleaning our clothes is just a fact of life. However, there is a way to organize your laundry room to make this task less of a chore.
Function First
First and foremost, your laundry room needs to be functional and make the tasks at hand as easy as possible. Relocate all the items that do not belong in the laundry room. I don't know about you but I want to get in and get out of there as fast as possible.
A Hint About Hampers
I've seen plenty of pretty Pinterest pictures with custom or cute carts for holding dirty laundry. Personally, I do not think I could get anyone in my family to take a trip to the laundry room after taking off their clothes. I recommend putting two hampers in everyone's closet: one for whites and one for colors. That way gathering up clothes on laundry day is easy.
Schedule It
Laundry is much less likely to pile up if you have a schedule. I instituted a schedule when my teens decided having a clean towel every day would be super nice. I said "I wash towels on Tuesdays." They learned pretty quickly to use their towels for a few days in a row. You come out of the shower clean!
Also, having a schedule will keep you from stressing about this chore. One or two loads a day depending on the size of your family. That's all you've got to do.
I tend to schedule more time-consuming laundry like sheets on days where I am less busy. Towels are easy so I do them on my busiest day. Plus they can sit in the dryer if I need them to, no worries about wrinkles.
Print out my cute Laundry Schedule to display in your laundry room.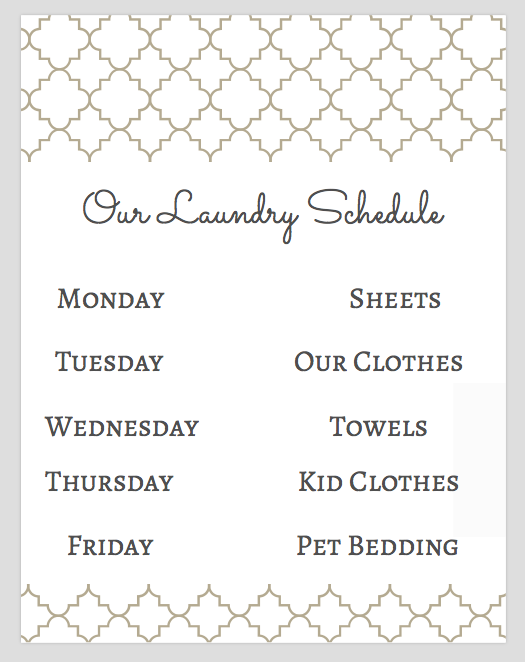 Hanging and Folding and Ironing, Oh My!
I hate to iron. Pretty much refuse to do it. I generally get away with this by pulling clothes from the dryer right away and hanging them up. This cute hanger organizer keeps hangers from falling all over the place.
I fold on top of my dryer. If you are unable to do this, install a drop down folding shelf.
Alas, sometimes we must iron. Behind the door is a great spot to hang your ironing board. Or you could install a drop down ironing board. I have both an ironing board and an ironing mat which I place on top of my dryer for quick jobs.
Pretty Touches
With four family members and two fur babies, I spend a decent amount of time in the laundry room. So I decided I wanted it to be pretty as well as functional. Here are some fun extra touches.
Storing your powdered laundry detergent in a glass jar and your liquid detergent in a glass beverage container is pretty, convenient and you'll instantly know when you need more detergent.
A pretty basket, bucket or other container for change and other items left in pockets
Plants, pretty pictures, or other decor is a welcome sight in a laundry room.
Extra! Extra!
Lucky enough to have storage in your laundry room? This is a good place to keep many of the extras we need around the house:
Light bulbs
Toilet paper/paper towels/tissues
Cleaning supplies
Cabinets are the obvious choice. If not, consider a slim cart that squeezes between the washer and dryer , or between an appliance and the wall.
Another option is the ever useful shoe pocket organizer. (Seriously, I have one of these on the back of practically every closet door in my house.) I prefer the clear or netted version so I can see the contents inside.
DIY Recipes
If you have the time, making your own laundry products is easy, inexpensive, and so kind to our earth. Here are my favorite recipes:
Easy Green Laundry Detergent
1/2 cup Arm and Hammer Super Washing Soda
12 cup baking soda
3/4 cup Dr. Bronner's Castille Soap
1 1/2 gallon hot water
20 drops essential oil (optional)
Instructions:
Grab a 2 gallon bucket.
Measure 1/2 cup Arm & Hammer Super Washing Soda into the bucket. (I found this product right on my grocery store shelves.)
Add a little bit of hot water to dissolve the washing soda. Then add 1/2 cup baking soda and stir again to dissolve.
Fill the bucket with about a gallon and a half of hot water. You might find that the powder mixture has clumped together. (It can be as hard as a rock!) Don't worry about that. It will eventually dissolve over time.
Next add 3/4 cup Dr. Bronner's Castile Soap and stir. I found Dr. Bronner's at Target and it's also available at upscale grocery stores like Harris Teeter and Whole Foods. It comes in many scents (lavender, citrus etc.) Castile soap can be expensive-about $20 for a 32 ounce/1 quart bottle. However, a little goes a long way. And-there are so many uses for it!
Add essential oils if you like. Be generous. About 20 drops is great. Experiment. Lemon and lavender is a popular choice. I like Young Living's Joy. Because who doesn't want to smell like joy?
One last stir and your ready to transfer your laundry soap to a glass jar. Be sure to use glass if you are using essential oils-they are strong and can eat away at plastic. (You can see my full post here.)
Laundry Scent Booster
Just put about 4 cups of Epsom salts in a cute Mason Jar and add about 20 drops of your favorite essential oil. Then, just put about 2 tablespoons in with your laundry.
Happy Organizing!!!