While I love the idea of spring cleaning, in reality I often struggle to find the blocks of time required to actually do the cleaning.
Therefore, when it comes to how I schedule and plan my cleaning tasks, I've realized that I'm much more of a proponent of steady wins the race as opposed to fast and furious. When I take on the mind-set of working regularly and purposefully, I do a better overall job of staying on task with my chores. And, in doing so – I don't even need to spring clean, yay!
So, yes, I am giving you permission to not spring clean this spring, specifically when it comes to your bathroom. If you follow these three simple steps, your bathroom will stay neat and tidy and you will not need to schedule time to spring clean creating more time to enjoy the beautiful spring weather.
The Easiest Way to Clean your Bathroom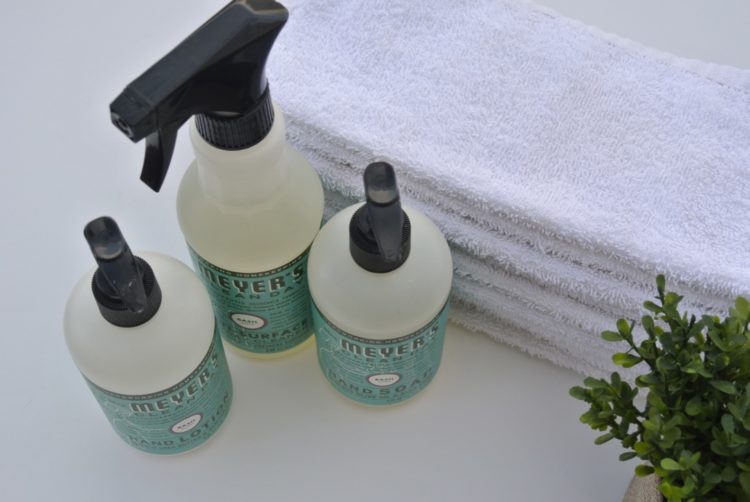 Step One: Clean surfaces & put things away – daily.
I keep a stash of clean white washcloths (affiliate link) that I can easily grab when my bathroom counters need a quick wipe down. Additionally, I stock each bathroom with a set of cleaning supplies, this way I don't run the risk of getting distracted (I know nothing about this). I also work to put things away as I use them. By keeping up with these two daily tasks, it helps to make my bathroom shine and my weekly and monthly cleaning, that much easier. 
Step Two: Clean by designating weekly and monthly tasks.
I clean our bathroom weekly when we do our Family Blitz. (The Blitz right now, due to scheduling and commitments, is happening on Sunday afternoons.) This is when I sweep/vacuum the floor and clean the sinks, mirrors, and toilet. It only takes me about 15 minutes. I then reserve the remaining cleaning tasks, like mopping the floor and cleaning the window for one scheduled day in the month, usually on a Monday. I also listen to either a podcast or an audio book when I'm cleaning, this way it feels like my time is being better utilized. I'm learning and cleaning!
Step Three: Clean while you are in the shower.
While I'm enjoying my shower, I give the walls and glass a quick scrub down. It makes cleaning the bathroom a lot less painful (and is a pretty productive use of the water too!). I stash my Mrs. Meyer's tub & tile and Grove Collaborative scrubber sponge in my shower as a reminder. Same goes for right after I'm done taking a bath, one of my new favorite ways that I create time for my self-care. I do a quick wipe and scrub of the tub, and in doing so I never have to focus on these two jobs at different times.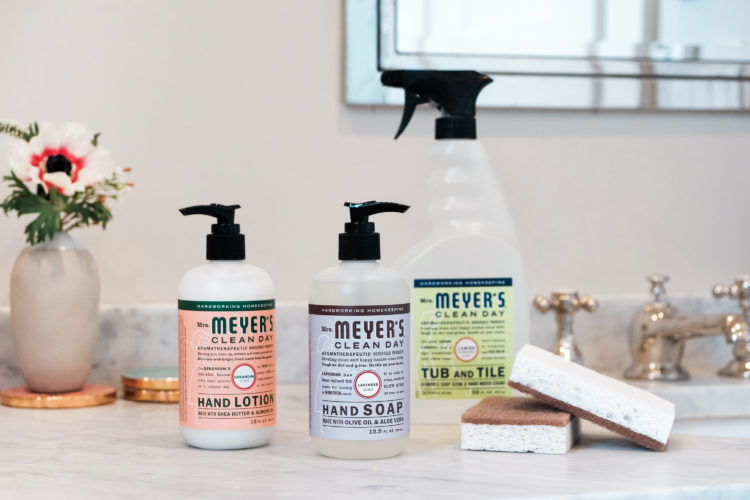 These are three simple steps you can easily implement. Begin by stocking up on your cleaning supplies, for each bathroom, and then take a daily, weekly, and monthly approach to your cleaning tasks. When you follow these steps, you'll be able to enjoy a squeaky clean bathroom around the clock!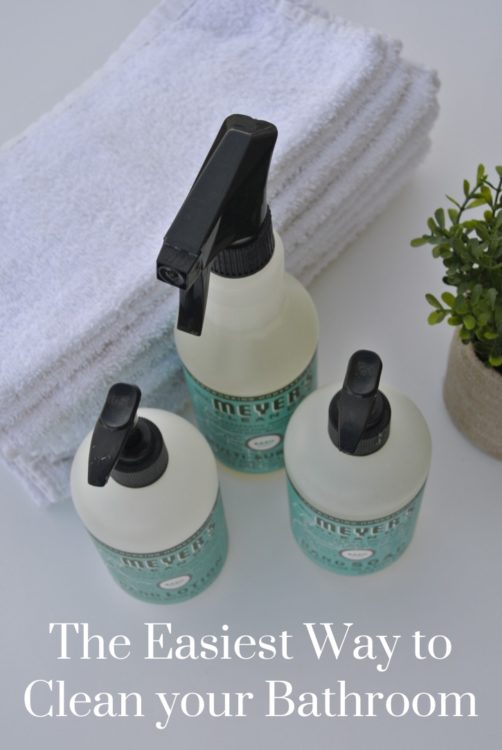 If you need to restock or update your cleaning supplies, Mrs. Meyer's has some of the best natural products out there and also the best scents! (I'm still hooked on the basil scent and just got the lotion – it smells so good.)
Right now, Grove Collaborative is offering my readers these bathroom cleaning "must haves" for FREE with your first order of $20! And, if you're already a customer, you'll receive a Mrs. Meyer's hand soap for free. This offer truly makes bathroom cleaning so much easier, so don't miss out. The offer ends Sunday and supplies are limited.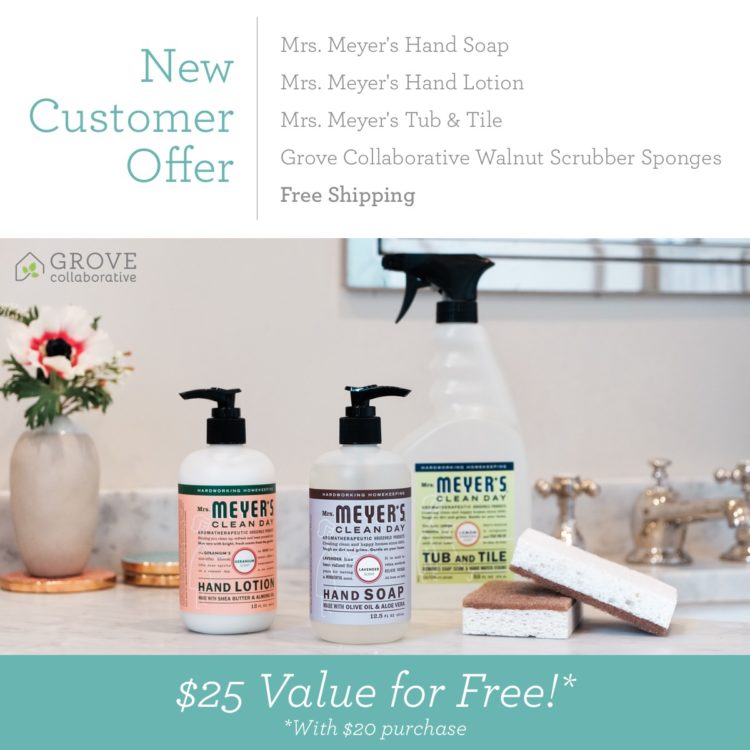 I've been using Grove for six months and I love it. It's so easy, saves me money, and helps to keep me motivated with my cleaning, and I need all the motivation that I can get! Find out how you can get all this free stuff with your $20 purchase. I'm thrilled to partner with Grove Collaborative as an affiliate!
What is your favorite Mrs. Meyer's scent? What are your thoughts on spring cleaning?
Happy Cleaning & Organizing!