It's giveaway day!!!
Toni from A Bowl Full of Lemons, recently came out with her second book titled, The Complete Book of Clean. (You can enter to win a free copy below in the comments!)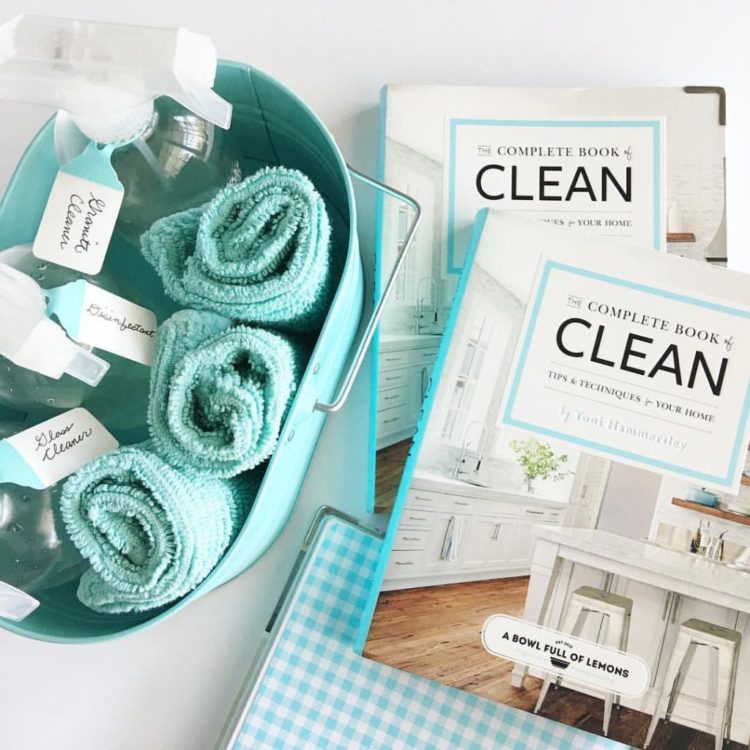 This is a wonderful book that compliments her first book The Complete Book of Home Organization. They are both wonderful resources when it comes to maintaining and beautifying your home.
I love how Toni begins her new book. In the first chapter titled "Getting Started," she addresses the ongoing reality of finding the motivation to clean. I'm raising my hand nice and high here, as motivation is always my biggest obstacle. Why is cleaning so hard?!?
Motivation: Cleaning & Organizing
"Motivation is the main challenge of a clean home. To help me get (and stay) motivated, I put on comfortable clothes, turn on my favorite music (really loud) and fill the diffuser with my favorite essential oils. And I always start with the big picture in mind. What do you want your home to look like when you're finished? You can accomplish it, one step at a time." ~ Toni Hammersley
Having a big picture mindset when it comes to your home, rather it be organizing or cleaning, is the best way to approach things. If you are feeling stuck with what steps to take, this book will help you. You'll feel less overwhelmed and better prepared to tackle your cleaning because you'll discover the "how-to!"
From cleaning checklists, to cleaning recipes, to her 30-day purge challenge – Toni covers it all! You'll love her style, tips, and how she breaks things down room-by-room. And if you've been wanting to switch to homemade natural cleaners then this will be a fantastic resource for you.
I'm a big fan of Toni (not as much cleaning, if I'm being honest) but books like this help me to stay more motivated. (Loud music helps too!)
I'm giving away a FREE copy of The Complete Book of Clean, to US residents, winner will be notified in one week via email. Please leave a comment below and tell me how you find your motivation – when it comes to cleaning!
There are affiliate links in this post. If you click-through and make a purchase, I may receive a commission at no additional cost to you. Read more here.
Happy Organizing & Cleaning!