We've heard, "Don't plan on NO snow, until after Mother's Day." To which I replied (in my head), "Yeah right! Snow in April/May – that sounds crazy!" Well, you know where this is going. We just had another snowfall last weekend!
Soccer games were cancelled and my kids found themselves dressing up again in their snow pants and hunting for pairs of matching ski gloves. I was thankful I had yet to pack away the cold weather gear that we have stored in our entryway closet.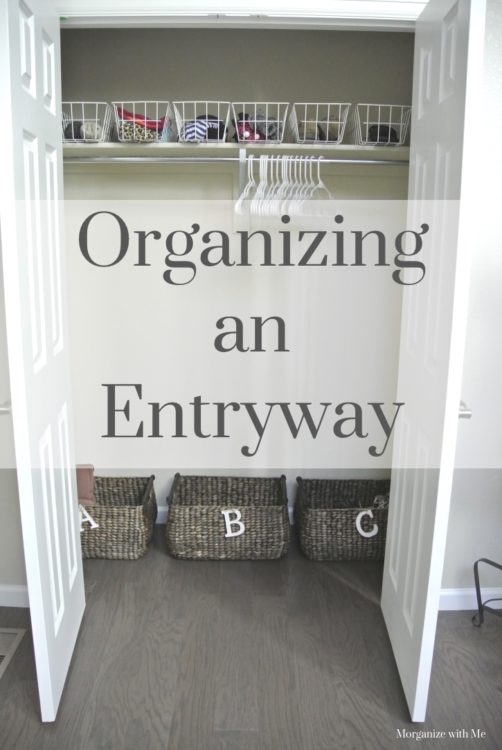 Last fall, when we had been in our new home for about two months, I worked to set up an organized entryway closet that would work as a spot for my kids to drop their things off as they came to-and-from. I'm happy to report the system that I set up then is still working for the Tyree clan!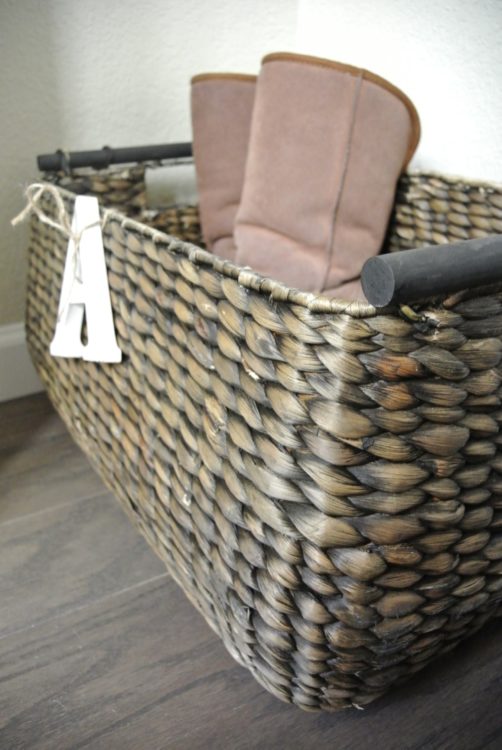 The kids use our front door the majority of time as they come and go. Therefore, I wanted to set up an easy and simple system for them to use in our entryway. I started by using three baskets that I bought last summer (from Michaels). They fit perfectly at the base of the closet and the letters I had used in our previous home quickly got tied on as well.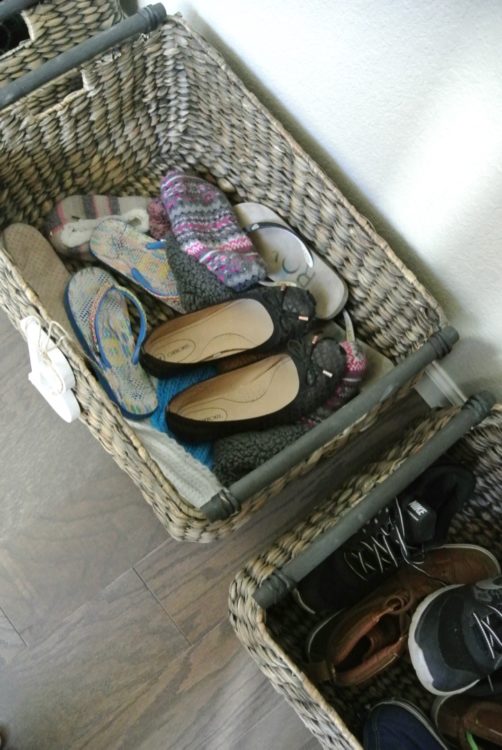 Not only is it a cute touch but it takes away the guesswork about whose stuff goes where. My kids use their baskets to toss their shoes, slippers, and what have you. (By the way we did not plan to have an ABC lineup, it's just the way it turned out!)
Next I organized the winter wear on the top shelf. Items such as umbrellas, gloves, hats, etc. I looked around and found these perfect baskets that I had used in my two previous pantries. Eight of them lined up perfectly and I simply organized the items by category.
My hubby and I keep the majority of our shoes in either the garage, on shelves, or in our master closet. And we use the pocket office as our closet/storage area for our coats, bags, and the like. We primarily come in through the garage door, the perks of being the drivers in the family. 🙂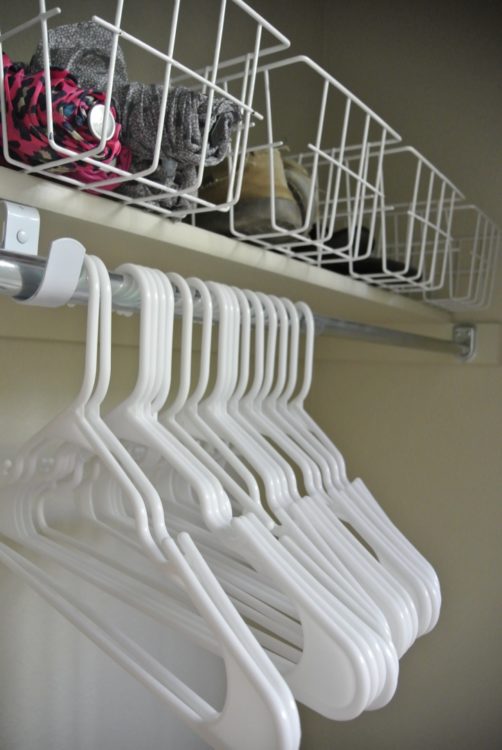 While these baskets worked perfectly on the top shelf, I recently ended up snatching them and using them for our kitchen pantry (post coming soon). I went back and forth on how to best organize our pantry and wouldn't you know it – the baskets that I've used in our last two pantries were the answer. (If it ain't broke, don't fix it!)
So, I replaced the white baskets with four matching baskets (also from Michaels) and kept the same basic system. Ta-da!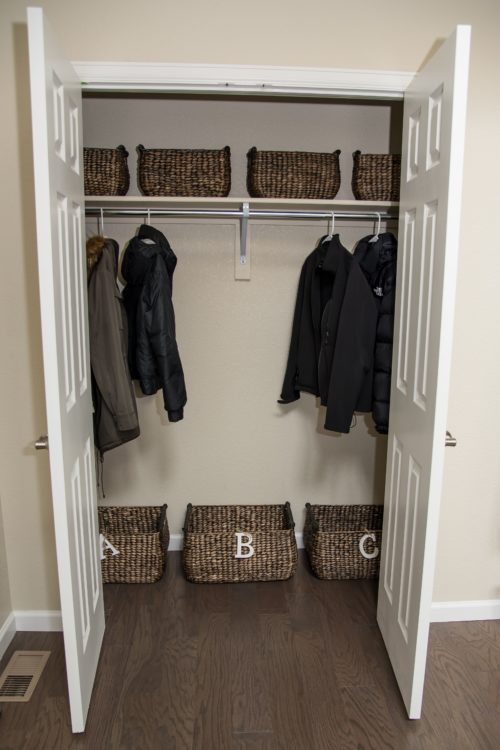 Next to the closet we also have our IKEA coat rack from our last home. This is one of my favorite solutions for clutter control. Even though the large closet has plenty of room for coats and things, the reality of coats actually getting hung up on hangers is not very realistic on a day-to-day basis. And I'm a firm believer in "reality organizing!"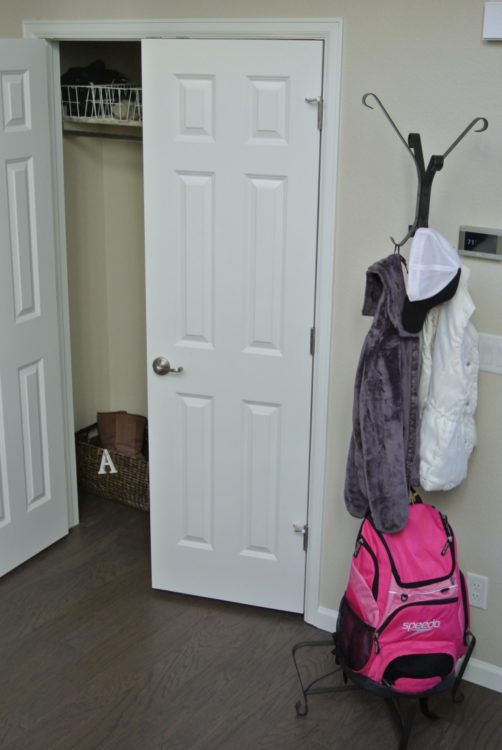 Coat racks are one of the best investments when it comes to organizing coats and bags. Not only does it work well for kids, it's also an easy place for guests to hang their things. I regularly clean it up a bit so it avoids looking like it's going to fall over. (Which in all honesty, is how it usually looks.) Then I also keep hangers in the closet for any guests that might want to officially and formally hang up their coats. #overachievers
 Whenever you start to organize a space, look around your home and find ways to incorporate things that you already own. Often this is the most efficient and easiest way to get a space organized. What do you do to help control the chaos in your entryway?
Happy Organizing!