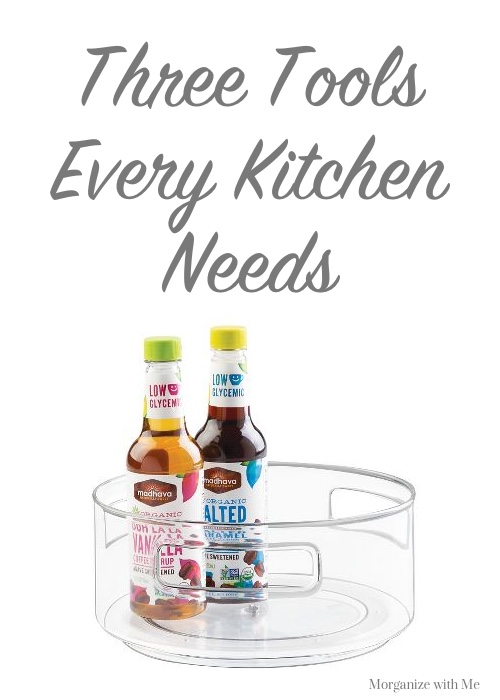 Organizing your kitchen doesn't have to be complicated. Making your own pasta or baking a homemade apple pie, now those things are complicated! But thankfully, organizing your kitchen can be as easy as 1-2-3! Based on organizing my own kitchens and helping clients and friends organize theirs, I've learned a thing or two (or three) about how to efficiently and effectively set up a kitchen. There are three tools every kitchen needs, besides good food of course. These three organizational tools are caddies, turntables, and baskets.
Three Tools Every Kitchen Needs
No. 1: Caddies – contain and corral
Caddies provide a great way to organize groups of items while also allowing for easy access. I commonly use these to corral all of my cleaning products under the kitchen sink. Depending on the size of your cupboard you might be able to line up two caddies side-by-side. The compartments keep everything neat and tidy and make it simple to only grab what you need when you need it. You could use these to create a pet caddy or a craft caddy, the options are endless.
No. 2: Turntables – twist and turn
Using turntables helps to organize multiple items and provides a way to see everything in one quick turn. The turntables with higher sides are a great option for taller supplies, like oils and vinegar. The turntables without sides, make a perfect choice for organizing smaller things, like spices or sprinkles. (You can see how I organized my spices using turntables.)
Additionally, you can use turntables to designate and create specific categories, anything ranging from baking products, to coffee supplies, to sauces. There are also some turntables with dividers, or what I like to call an Organizer's dream.
No. 3: Baskets – blueprint
When it comes to your pantry or your junk drawer, constructing a method to systematize what goes where is not only necessary but essential. By designing a plan or a blueprint, you'll be able to better menu plan and avoid purchasing duplicate items. You'll also be able to classify things by groups which helps when you need to locate a specific food item. Baskets help to map out what goes where and they make it easier for taller items to stand tall. I prefer plastic over wicker as they tend to be more sturdy and can be washed easily.
These baskets above are some of my favorites go-tos and I use them time and time again. In fact, I recently revealed our linen closet where I used the second basket listed. The interlocking drawer baskets from Rubbermaid are still my favorite option for drawer organization because you can personalize them anyway you need and can wash them individually.
A few organizing tools can help you to better organize every cupboard, shelf, and drawer in your kitchen, resulting in more calm and less chaos.
Which one of these three tools do you already use to help keep your kitchen organized? Or which one do you need to implement and start using?
MWM uses affiliate links in some posts and social media. These links provide a small commission on sales of the products that are linked on the site. Thank you for your understanding and support! MWM full policies may be found via the ABOUT page.
Happy Organizing – and making your own pasta, if you are into that sort of thing!