Today is the first post in a brand new series, called "Organizing Dilemma!" This is where I take a problem area that a reader needs help with and I create an organizing plan for their space. With the reader's input, I will provide tips and tools for how to work to solve their dilemma.
My first reader asking for advice is Laura. She has a corner cabinet she is using as her pantry. Laura wants to know how to organize her pantry better. Here's what she wrote:
"I would love your help organizing my pantry cabinet!! It is sooo awkwardly shaped, kind of triangular shape and it is so hard to store ANYTHING. I like to be able to try to see everything I have at a glance (or at least know what I have) and it has been a headache trying to find something that works. Something always seems to get lost because of the deepness of the cabinets and the inability to see what is on the sides when you look straight into the pantry. No matter what I do I always seem to lose usable space. I'm on the verge of giving up. Please Help!!! Thank you for considering my space!" ~ Laura
Corner Pantry Cabinet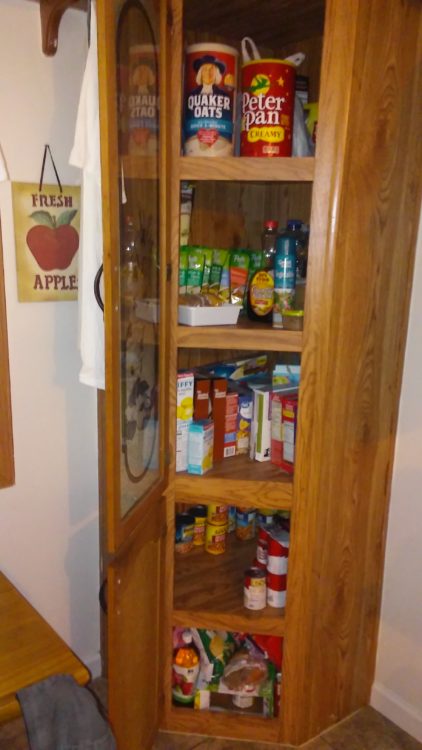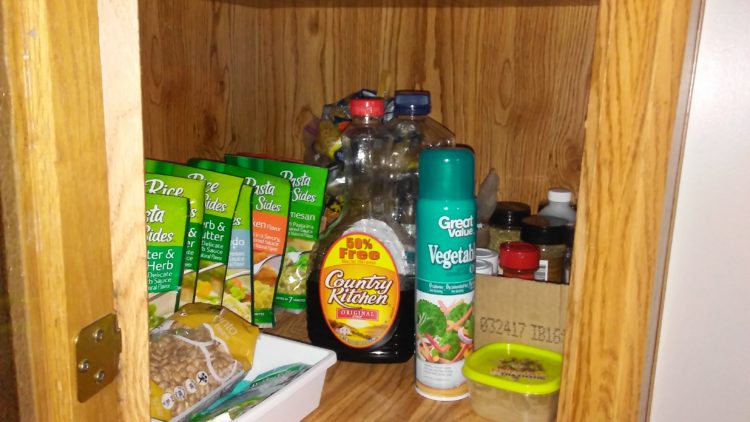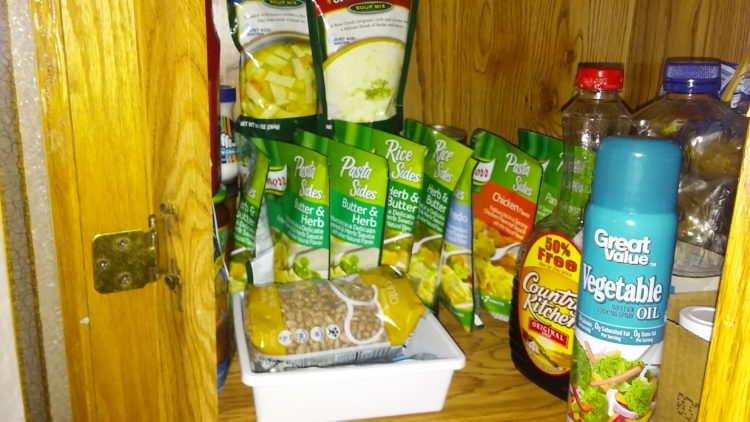 First, corner pantries in general can be extremely challenging to organize. It's tough to maximize storage space and access things easily. Secondly, I can see that things are organized well in Laura's pantry. Items are grouped by category and there is a sense of a system. Overall, it's a good amount of space, it just needs a little TLC. Here are my suggestions.
Steps
Working shelf-by-shelf follow these four steps for each shelf:
Pull all of the items out, every.single.thing!
Discard any outdated foods and unnecessary things.
Clean the shelving and add liners if desired.
Measure the shelves to help with purchasing the right supplies.
Tips & Tools
Smaller Items: for items like rice packets or pasta bags I would add containers to corral like items. Preferably clear containers (see below) that allow you to see what is being stored. Stackable bins might be a better option (if space allows) so you can stack them vertically, getting the most out of the cabinet space.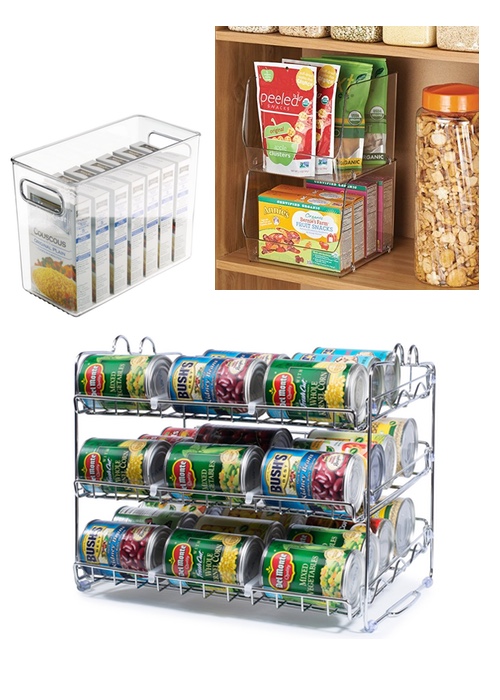 Canned Goods: referring to the measurements, consider adding a can system for the canned goods to allow for more organization and accessibility. Either something like above or a tiered system might work well.
Bottles: to create a better working system for oils, vinegars, and syrups, adding a single turntable will help. Depending on space, you may be able to put more than one on a shelf. Turntables work excellent in corners making it simple to grab what you need. Likewise the double stacked turntable is a great option for spices.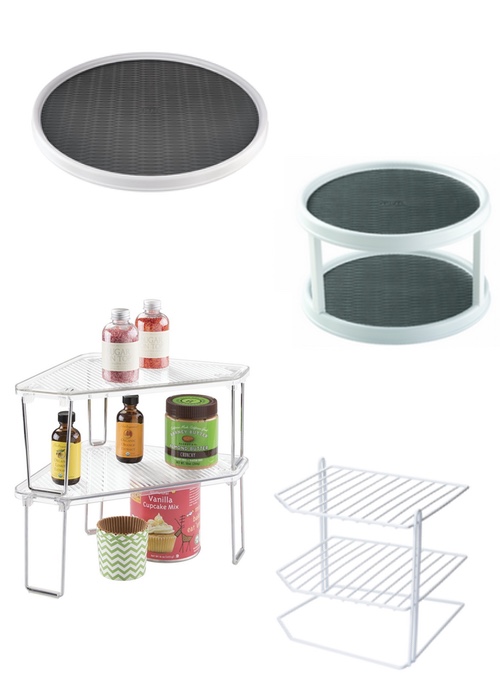 Jars & More: for either jars or items you want to stack, add corner stacking units. They come as a fixed system or also ones with separate stacking shelves. Lastly, I would recommend downsizing any and all packaging. For example, the oatmeal could find a new home in a mason jar with a lid or in something like pictured below.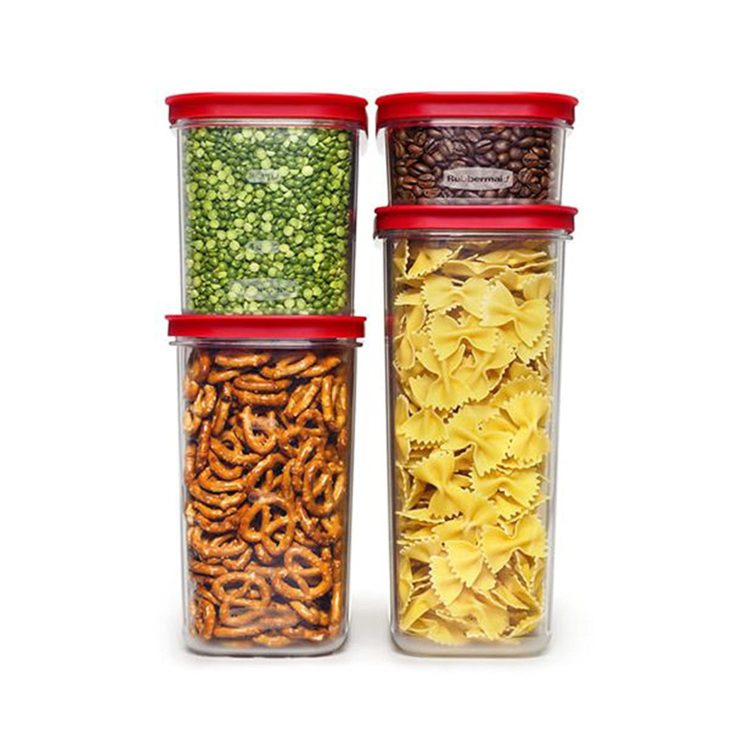 Thank you so much Laura for sharing your Organizing Dilemma with me! Take your time with the reorganization and remember it's a process. Only purchase the items that are necessary to help you to make the most out of your pantry. The tools above are just that – tools! 🙂
What do you think? What would you do to organize a cabinet/pantry like this? Have you experienced similar challenges with getting your own pantry organized?
I reached out to the MWM Organizers Facebook group and asked for any interested group members to share their Organizing Dilemmas with me and I'd love to hear from you too!  If you have an Organizing Dilemma that you would like me to tackle and help you solve, submit photos and a brief description to – morgan@morganizewithme.com.
And, if you are not subscribed for my weekly updates, be sure to sign up today and get my Organizing eBook for free!
MWM uses affiliate links in some posts and social media. These links provide a small commission on sales of the products that are linked on the site. Thank you for your understanding and support! MWM full policies may be found via the ABOUT page.
Happy Organizing!