It's time for me to have you over!  I've been wanting to show you around here (in our new but not so new home) for a while, but just haven't gotten around to taking room by room photos.  I needed a goal.  So, starting this month I will highlight one room in our home each month.
This month is going to be a tour of one of my favorite rooms, our Laundry Room.  I shared my other Laundry Room over here, it was about a tenth of the size of our current Laundry Room.  I am not kidding.
For those of you who are newer to MWM you will want to note that we are currently living overseas in Portugal.  We are living close to the sand and the surf and have views of palm trees.  The home is a really nice home with three stories and lots of room.  While it has a similar layout to our previous home, every room is much more spacious, minus the bathrooms.  (But there are five of them!)  We are limited with some decor options due to the loads of tile and the white standard walls, but we've worked hard to make it our home.
So follow me downstairs, let's start by peeking in on the room that handles the grass stains, the stinky towels, the cleaning rags and the sweaty workout clothes.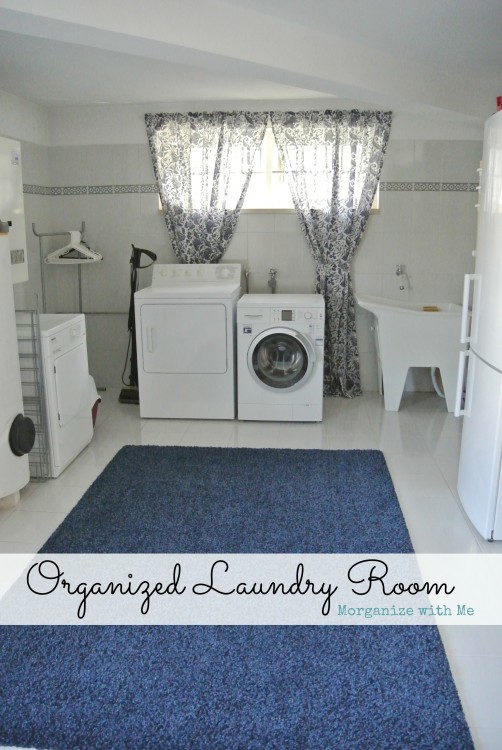 Opposite of this picture is the other side of the room which is a walkway from the outside door to the door of the Laundry Room.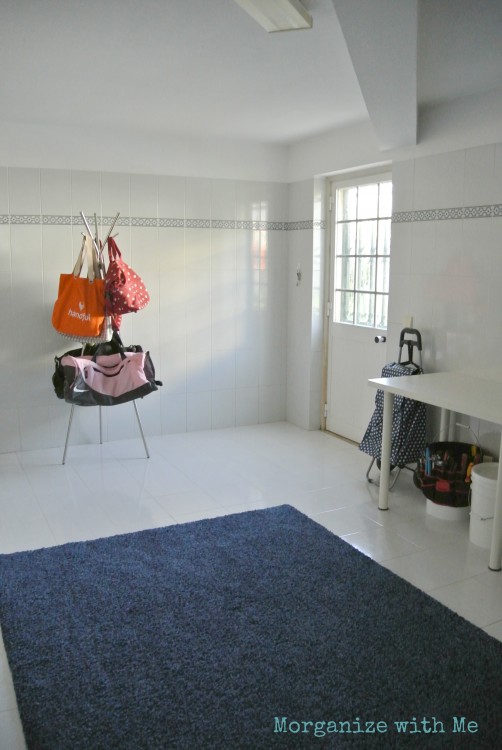 I have fallen in major like with coat racks.  For some reason we only have closets on our top story (where our bedrooms are) so I had to come up with a solution for all of the bags and coats we have hanging around.  This  coat rack has become our dedicated spot for bags.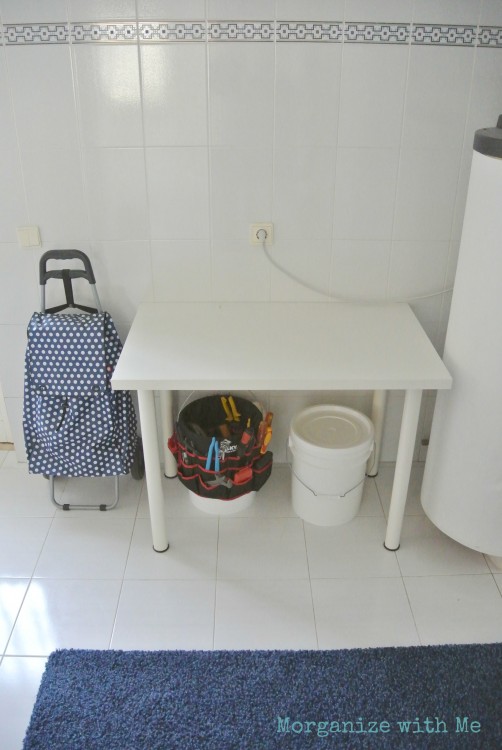 My granny cart is parked and ready for going to the Farmers Market, I have consolidated our tools to this handy Husky bucket and the other bucket holds my homemade laundry liquid soap.  And, the table could in theory be a folding table, but I usually lug all of the clean laundry upstairs to the Living Room and fold and sort while watching TV.
I love this simple system for organizing tools.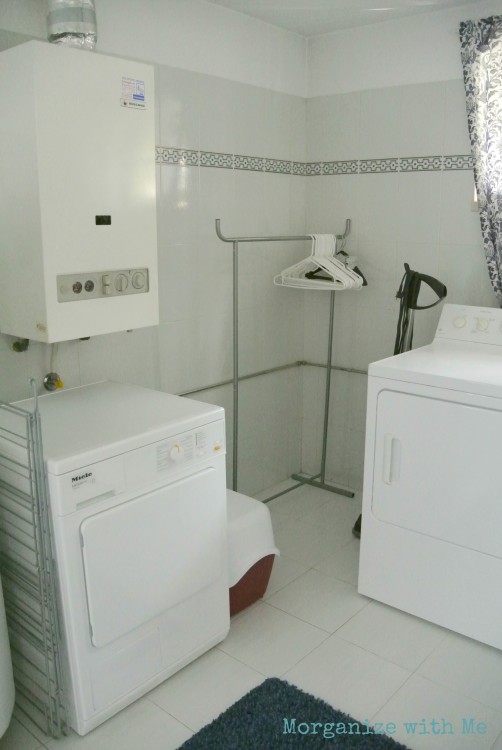 I hang our hanging clothes right out of the dryer on this free-standing rack.
Moving to the other side of the room…
Each bin is dedicated to one focus and is labeled.  They provide a lot of storage for anything from light bulbs to beading supplies to thank you cards.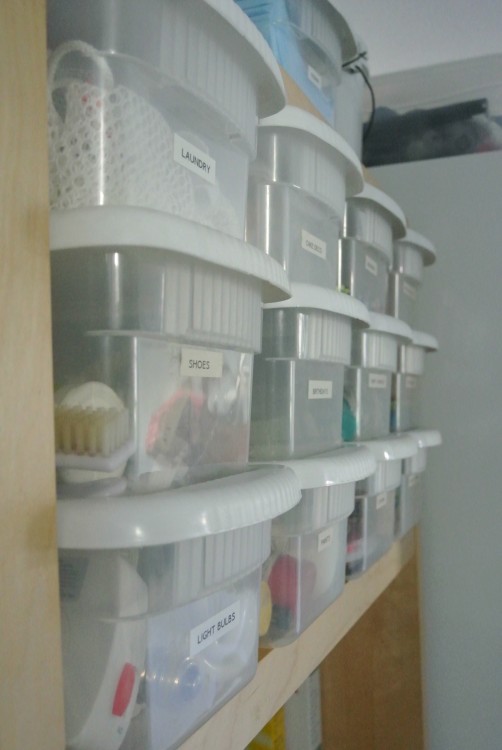 When we moved into our home (which we are renting) I found a box of all of the home papers.  The box was overflowing so I snatched a bigger box and moved everything into it.  I didn't purge it because the papers are not mine to purge.  (Although it was tempting.) 🙂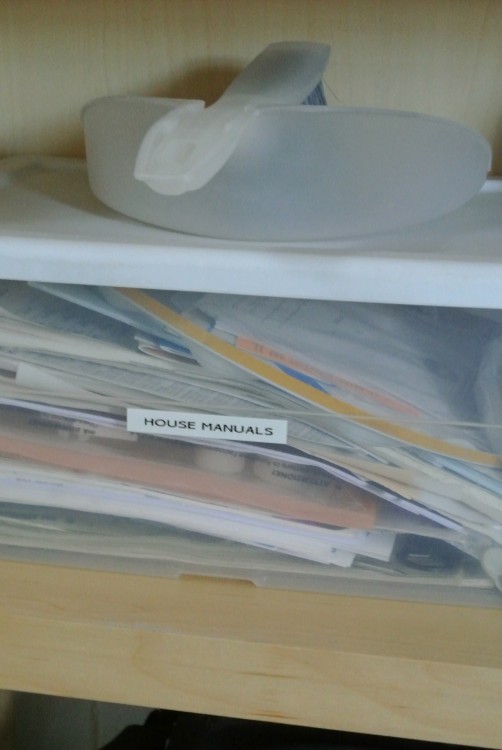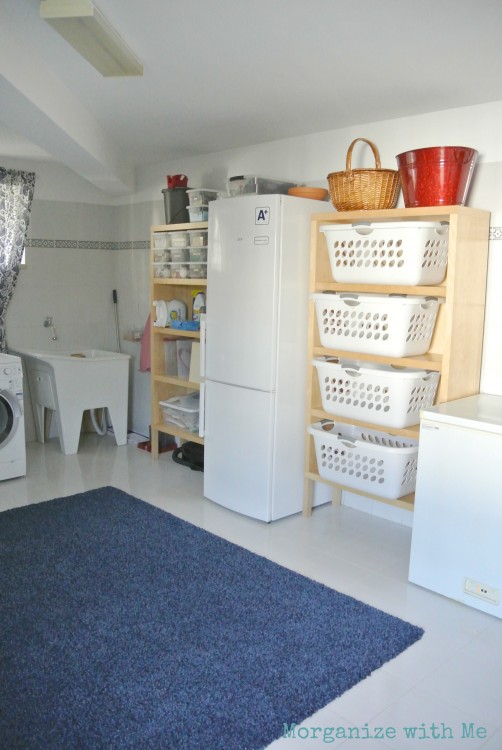 We use these four laundry baskets to separate dirty clothes.  Darks, lights, towels and workout.  These bookshelves were in the house when we moved in.  There are actually four of them and I am thrilled to have all this storage at my finger tips!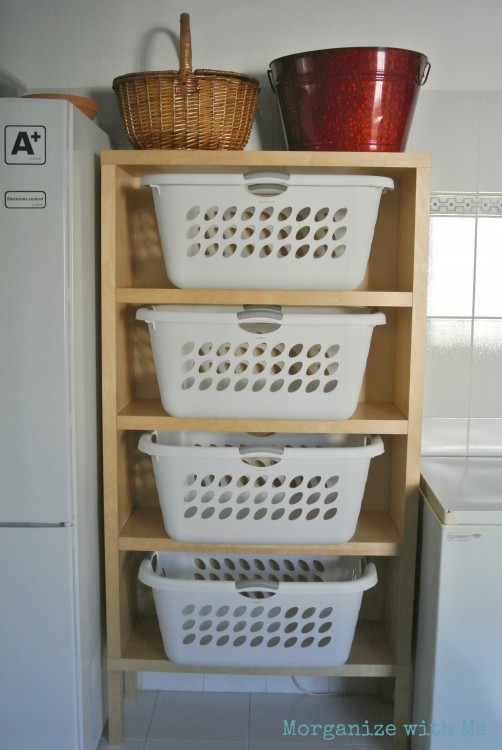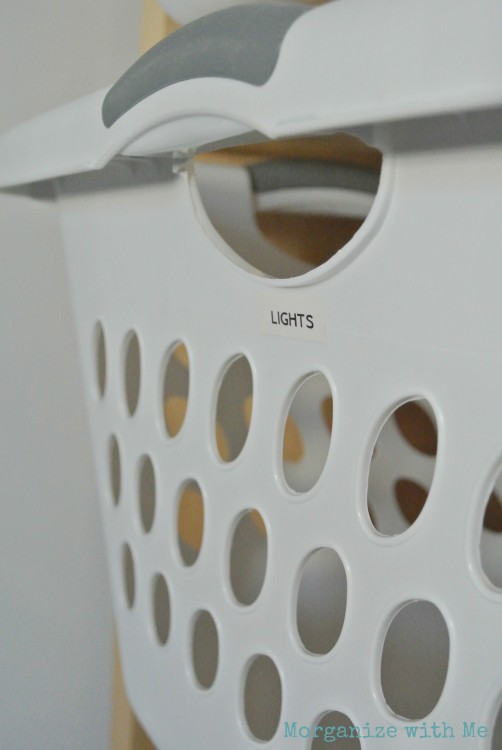 So that's the room!  It's where I do about 10+ loads of wash a week.  (We have a small capacity washer.)  Which is why it is my favorite room, or a close second to my Kitchen, the other room I also spend a lot of time in!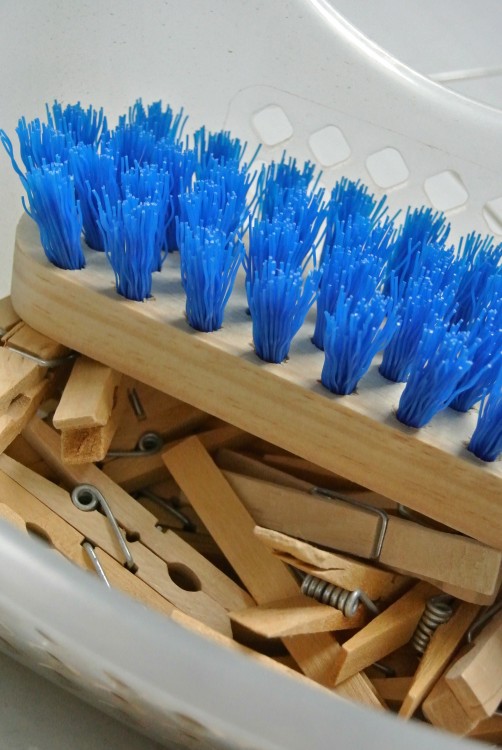 Thanks for stopping by!  I look forward to showing you my office space next month!
If you have a favorite room in your home, I want to hear what it is and why.  Share with me in the comments.
Linked with A Bowl Full of Lemons and Carrie this Home.