One of my blogging goals this year is to share more of our new home with you! I've been holding back, mainly because since moving in a little over a year ago, we've been busy working on not one, but two, major remodeling projects. While these projects have been fun, they have also been very time-consuming!
Side note: I'm giving away a fun book (If You Only Knew) at the end of this post, make sure you enter to win. If you haven't discovered the gift of Jamie Ivey, you'll want to check her out! I love her podcast. I've been listening to all of them in order (because order is important to me) and I'm up to podcast episode #123! She has the best guests. I always walk away with a conviction, inspiration, or both. 
Now back to home organization…
Laundry Room – An Organized Updo
I recently worked to set up our laundry room in a more functional manner. By adding additional shelving, creating vertical storage, and adding a few layers, this space now works even better.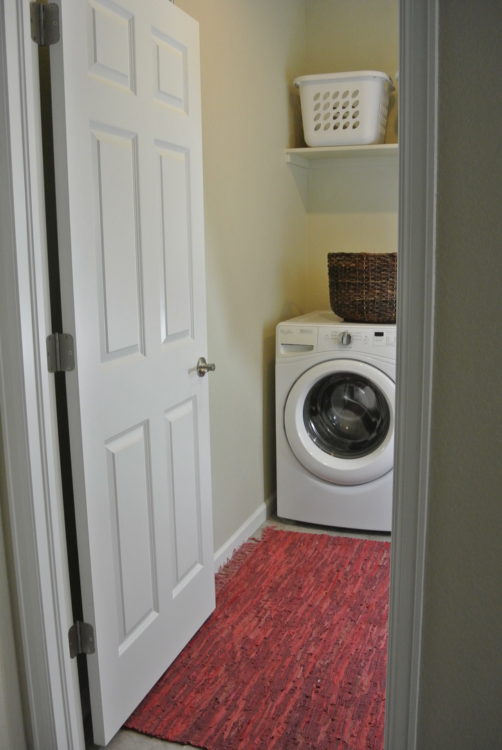 Our laundry room is on our upstairs floor, something I've never had before, and all in all I like it. My kids do their own laundry (they each have a designated day) and then I do the remaining laundry on the other days.
I was sent this gorgeous rug from Natural Area Rugs and it is the perfect addition to this hard-working space. I love how it added a nice pop of color and softens the hard lines. Natural Area Rugs has an amazing selection of affordable natural fiber rugs and each rug comes with a free rug pad.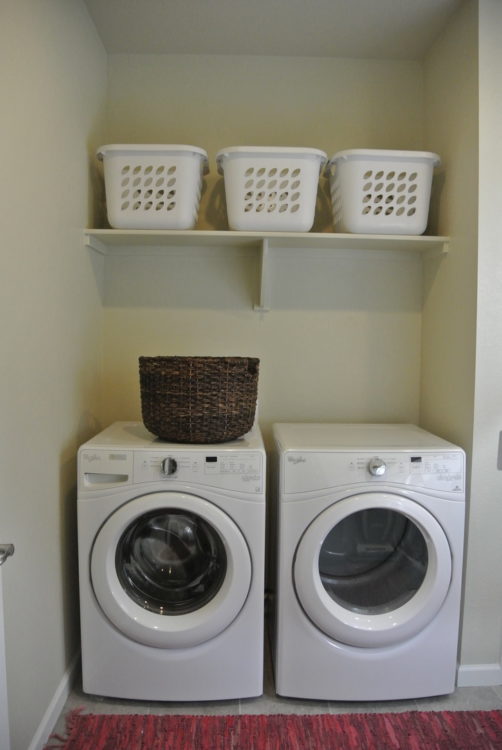 The builder installed this very high shelf above the washer and dryer (not very practical!). Because it is so high, the only thing we put up there is laundry baskets, which works fine. In the future we are going to add another identical shelf below it to provide more storage and to help balance the wall more. The basket on the washer is used for swim towels and miscellaneous dirty laundry.
Are you ready for my favorite part?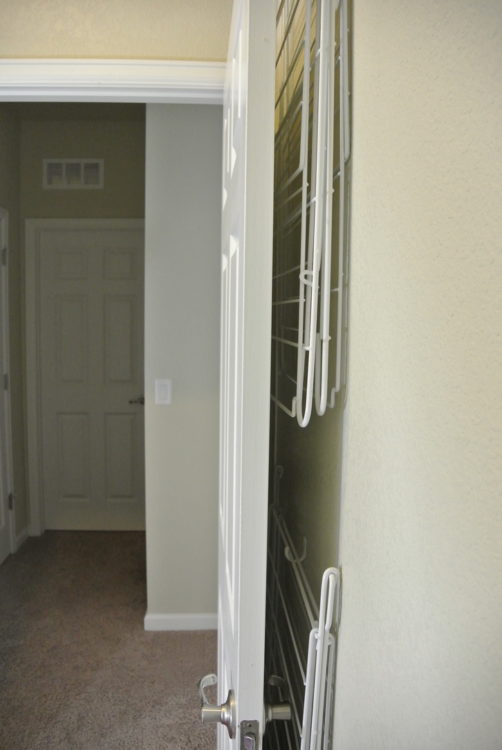 Behind the door I added two hooks to hang up our IKEA folding racks. I love that they tuck away here and I can use them right in the laundry room.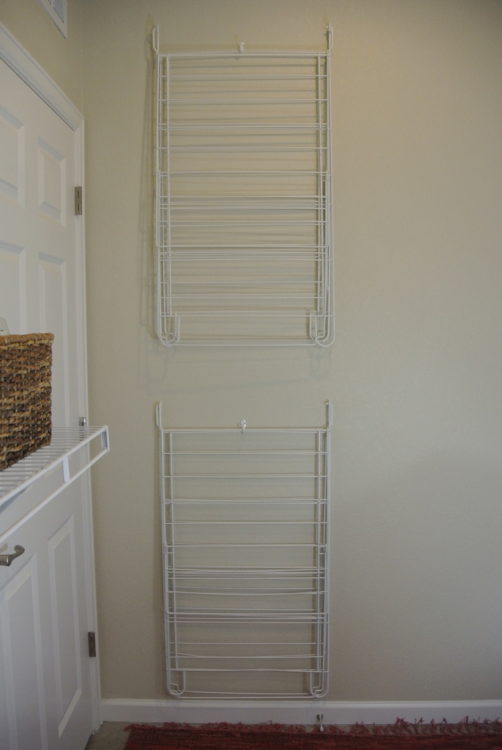 Then, moving around to the other wall, I recently added two Closetmaid shelves from Lowe's. I like that at Lowe's you can have shelving cut to specifically any size you need. When I do laundry I like to hang up all of our hanging items right out of the dryer and this space works great for doing just that!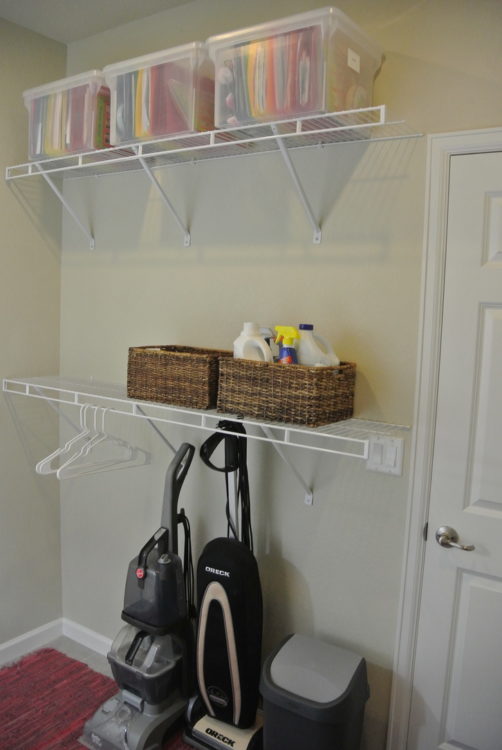 On the upper shelf, I keep my ABC's memory boxes. It's a great spot to store them and the perfect example of how to organizing vertically!
The lower shelf provides a place to hold items we need to access frequently. In these two baskets we keep soap, bleach, and other laundry related items.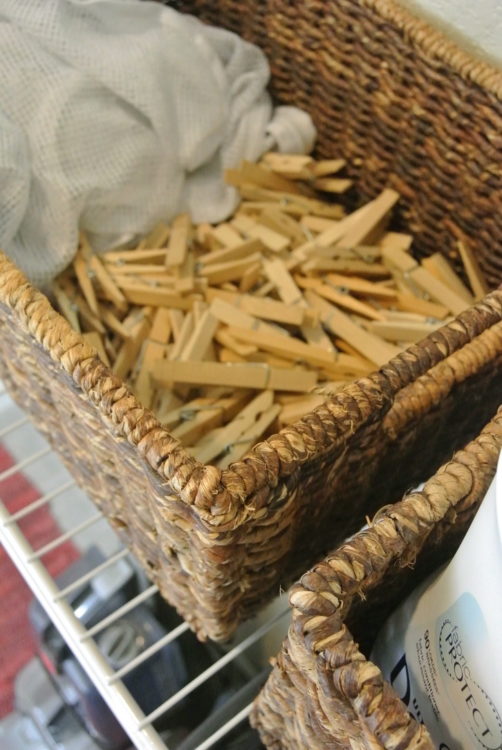 I also keep a garbage can in our laundry room so no one can try using the excuse of, "Not knowing where to put the dryer lint." (But trust me, they still try!)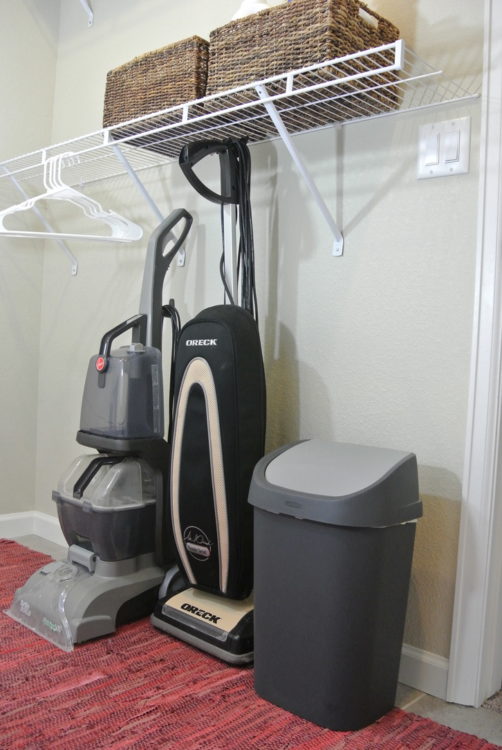 My future plans are to add a second shelf above the washer/dryer and paint the room a fun color. I love using a bold color in a smaller room.
However, because I just finished painting every inch of our newly finished basement(almost  1000 SF), this painting project will not be happening anytime soon!
If You Only Knew – Giveaway!!!
One (1) winner will receive a free copy.
Winner must be a US resident and will be notified in one week via email.
Good luck!
Happy Organizing!