A few weeks ago, I decided to organize the linen closet in our bathroom. This closet had been stuffed with all sorts of things and I had yet to set up a system or direction for the space. After some hard work I can proudly report that our linen closet is now in A+ condition and I'm hoping to keep it this way!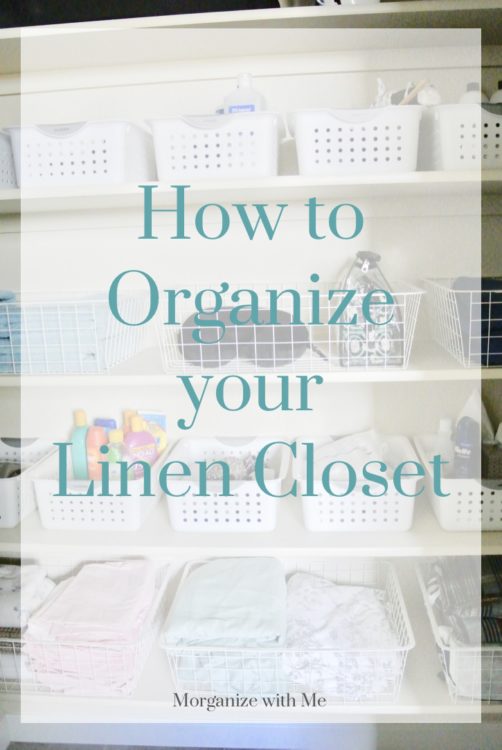 How to Organize your Linen Closet
I'm going to share our (now) organized linen closet and three of my organizing "Closet Rules" – to help you with organizing your own linen (or any type of) closet.
Closet Rule #1 – Bigger is NOT Better
Our linen closet is huge! While I'm thankful we have so much storage (so much that this closet has its own dedicated light), it's by far more space than we need.
A drawback of having more storage space is that this can make it easier to store more things, specifically things you don't need to keep. While sometimes it can be harder to organize because of a lack of storage, don't let lack of enough storage space become an organizing road block. Work to adopt a new mindset, one that focuses more on storing less versus requiring more storage space.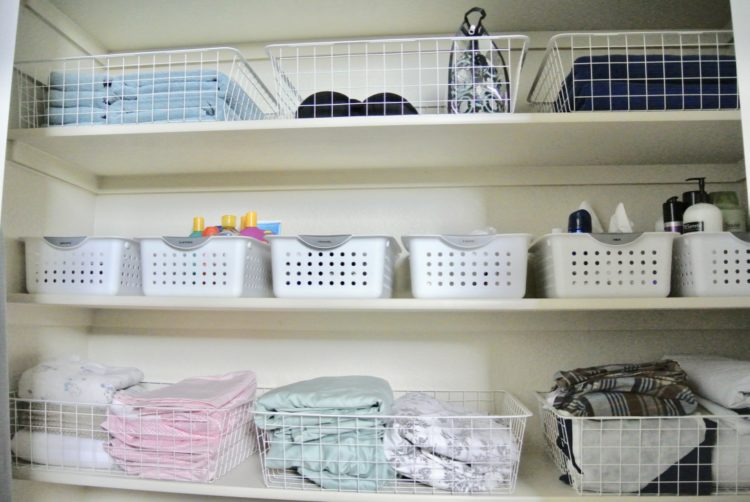 Closet Rule #2 – Shop your Home First
When I set out to organize our linen closet, I started by pulling everything out. Then I worked on separating the things that didn't belong and creating donation piles for those items that we no longer used or needed. When I had a clearer vision of what we were going to need to store, I went shopping around my home for storage containers that would fit on the shelves and help to create an organized system.
I found six IKEA storage containers that I could line up vertically, three across, and twelve Sterilite containers that could be stored six in a row (affiliate link). By shopping my home first, I didn't have to spend a dime to get this closet in shape!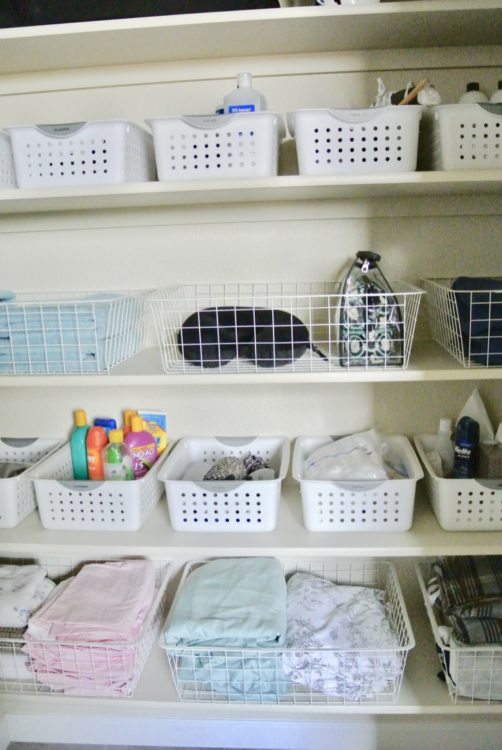 Closet Rule #3 – Categorize and Label
I used my IKEA storage bins to help combine like items. The lower three baskets hold our extra sheets and the upper three baskets hold extra towels and travel items. The smaller baskets hold a variety of things: extra health and beauty products, sunscreen, and first aid supplies. Additionally, the containers are labeled to help make it easier to locate things.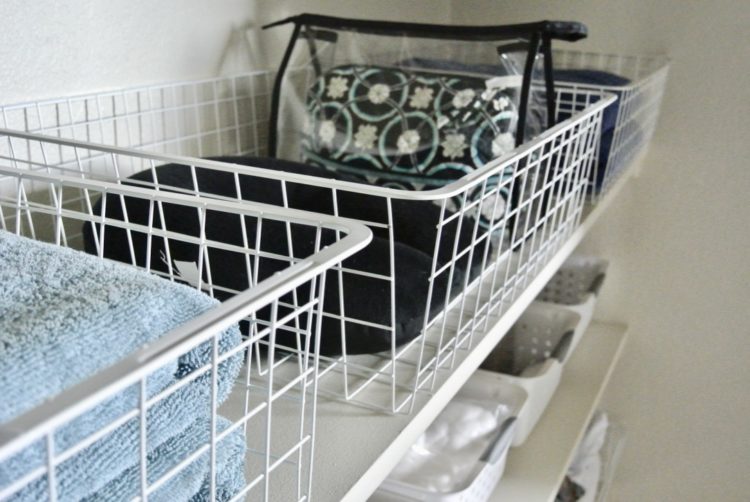 After I finished the reorganization of our linen closet, I was able to take several large donation bags to Goodwill. By fully purging this closet (that had become a complete dumping ground) I was able to get rid of a lot of things that were no longer needed. It felt really good to free up the space (even though we had the space) and ultimately – finish a project!
Your Turn: Which closet rules do you follow to keep things organized? Do you feel you lack storage space? What are your favorite closet organizing storage containers?
Also, remember you can join the free Seasonal (Spring) Organizing Challenge and work on small organizing projects in your own home.
Happy Organizing!