If you are like me, you've probably had a season (or two or three) where things in your life didn't go as you had hoped or planned. While I often share about living intentionally (how I define organization) with your time and choices, there are always going to be aspects in our lives that we don't have control over.
When you experience loss or disappointment, it's often hard to pick yourself back up and keep moving forward in the direction that God has for you. It can be all too easy to get stuck in the difficulty and to stay there. Trust me, I've been there and it's not fun. Nor is it productive.
Anchored In – Giveaway!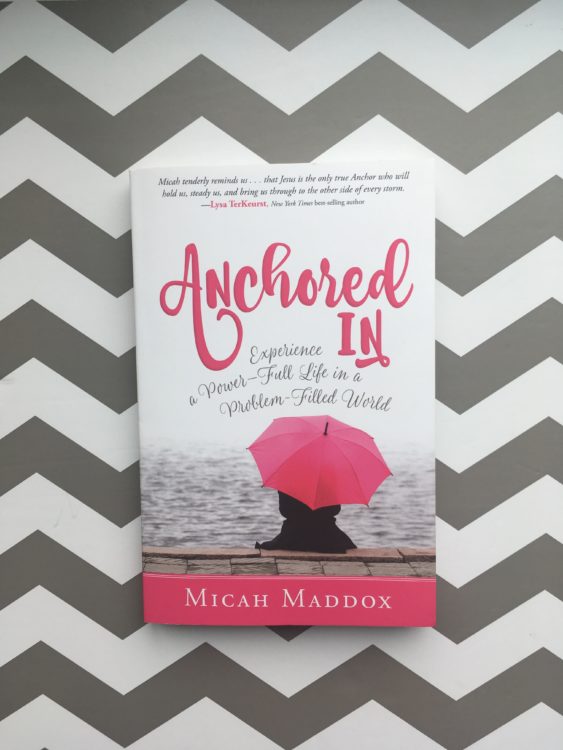 Because Micah's book offers powerful tools and tangible encouragement for living through life's difficulties, I wanted to give away a copy to one of you! (Enter below to win.)
I shared about Micah's book in my Fall Favorites (check out the video, she is such a bright light!). And like I mentioned, I met her in person and she is beautiful both inside and out. I was very encouraged and inspired hearing her share. You can learn more about Micah via her site, Micah Maddox.
Micah's story is heartbreaking but at the same time, also heart-encouraging. When you hear someone's testimony of how they have overcome problems and difficulties in their own life, it can make the impossibility in front of you seem not so impossible.
"Whatever the difficult things is in your life that keeps you awake at night threatening the anchor of your soul. God is bigger and wiser."  ~ Micah Maddox 
You'll be touched by her words and receive new ways to look at the challenges and struggles you are facing in your own life.
As the tagline says, you'll be able to experience a power-full life in a problem-free world. Yes please! You can find Anchored In: Experience a Power-Full Life in a Problem-Filled World
 wherever books are sold. Micah is a blessing and I hope you are touched by her story and words in many, many ways.
Enter Below to Win!
Open to all US residents, winner will be selected in one week, and notified via email.
MWM uses affiliate links in some posts and social media. These links provide a small commission on sales of the products that are linked on the site. Thank you for your understanding and support! MWM full policies may be found via the ABOUT page.