With January upon us, the motivation to get organized, tidy and clean, and yes, even get back to the gym, is alive and well! I too love the extra motivation that I feel at the beginning of the year. This motivation usually energizes me to do some more cleaning around my home, especially after the long winter break.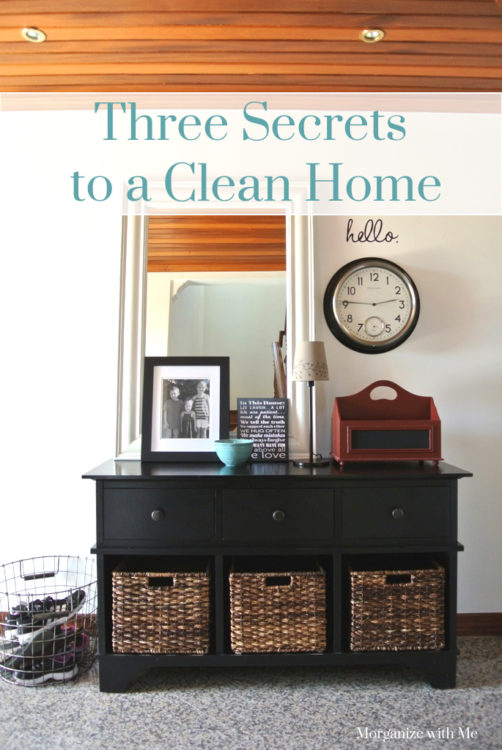 With five family members, and a dog and a cat, our home's cleanliness definitely takes a toll. I've come to accept that I can't keep things pristine but I can do several things to help keep things tidy. There are three specific things that I do (my little secrets) to help me keep our home clean.
Three Secrets to a Clean Home
Free Your Stuff
If you want a tidy home, it is essential to declutter. Cleaning and organizing naturally go hand in hand. In fact, one of the top benefits of an organized space is that it naturally leads to a cleaner space. I recommend decluttering category by category, being intentional about what you keep, and committing to streamlining your spaces and surfaces. When you do, you will automatically have a cleaner home!
Also, be sure to join me on Instagram, I've teamed up with some amazing Professional Organizers and we are running a weekly Organizing Challenge (#LessIsMore2018) with some really cool prizes!
Focus Your Time 
Distracted when you clean? Yep, me too. I can get pulled away from any task if I'm not careful. I do two things to fight against this challenge.
One, I set timers. A timer set for 15 minutes helps you to focus on the task at hand. Need to clean a bathroom? Set your timer and commit to only cleaning until the timer buzzes. Two, I make myself finish one thing at a time. If I start unloading the dishwasher I make sure to complete the job. Or, if I have laundry to fold, I make myself fold the entire basket. Working start to finish, with a focused approach, adds up to more things getting finished (and cleaned)!
Find Your Favorites
Stick to what works for you when it comes to your choice of cleaning products. Don't be tempted to keep buying more and more products. I'm know that I'm guilty of having an over abundance of cleaning products. For some reason I am easily swayed by all of the new formulas, colorful cleaning wands, and magical promises listed on the products. To fight against this temptation, I have narrowed down the list of products I use to clean with and I only buy additional cleaning products when I need to replenish.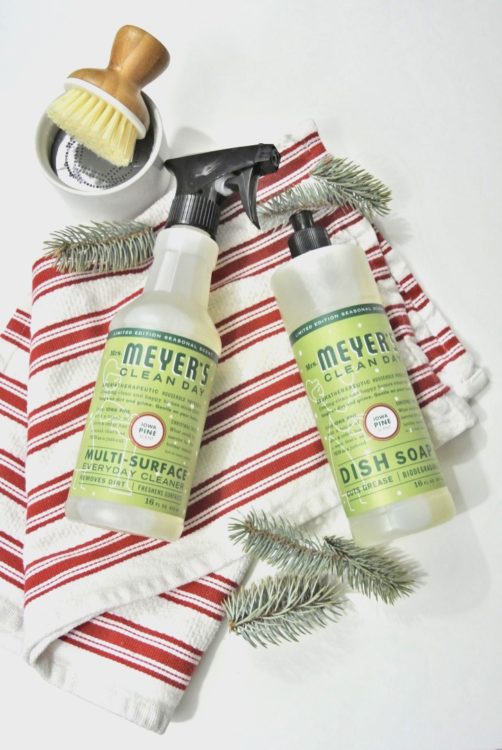 One service I've been using to help simplify my shopping, is Grove Collaborative. Grove won't be able to help you with your decluttering but they can help you with keeping your home naturally clean. If you have thought about trying Grove, now is a great time. They're offering a free New Year, New You Set with your first order of $20!
The kit includes:
Free Mrs. Meyer's hand soap

Free Mrs. Meyer's dish soap

Free Mrs. Meyer's hand lotion

Free Grove cleaning caddy

Free Grove walnut scrubber sponges

Free Shipping & 60 Day VIP Trial

***Please note that Grove currently does not ship to Canada, Hawaii, or Alaska.***
If you're already a customer, you can click here to get a free set of Grove walnut scrubber sponges. The sponges are so pretty you won't mind leaving them out by the sink.
I'm thrilled to partner with Grove and love that their products help to inspire my cleaning efforts.
Remember to free your stuff, focus your time, and find your favorites. These three secrets will immediately make a difference with the tidiness of your home.
Happy Organizing & Cleaning!